Design as permanent fixture solves problems with past flimsy plastic dispensers
NOVEMBER 7, 2023 — LAFAYETTE, LOUISIANA — Hand hygiene company Vaask® today announced its touchless hand sanitizer dispensers will be installed throughout Lafayette Regional Airport's new $150 million terminal. The Louisiana airport's leaders selected Vaask because of its design as a wall-recessed permanent fixture, replacing flimsy, plastic freestanding dispensers that become obstacles in concourses' crowded halls.
Lafayette's new terminal doubles the size of the prior terminal, which is being demolished for future expansion, and adds art-driven public spaces throughout. Vaask's elegant, modern design elevates the appearance of now-necessary hand sanitizer, replacing the unsightly plastic dispensers that became so common during the pandemic. Vaask's Island Citrus sanitizer gel also smells great and hydrates hands, encouraging passengers and employees to sanitize. That helps prevent the spread of germs in environments where studies show passengers can come into contact with 700 touchpoints in a typical journey.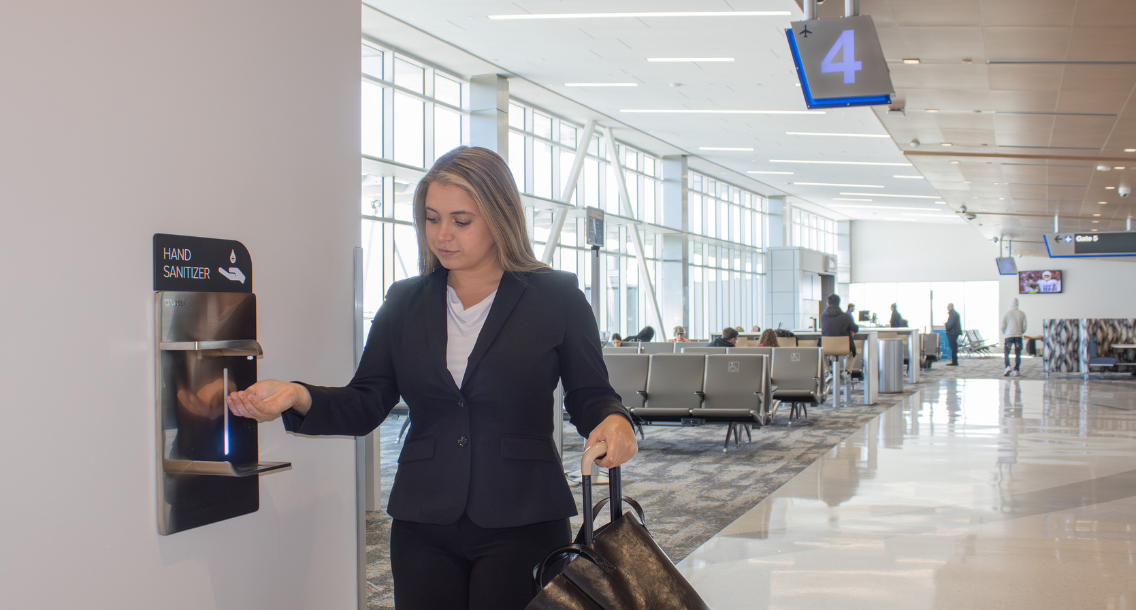 Vaask also offers simplified maintenance for airport employees. The dispenser uses AC power or Power over Ethernet (PoE) instead of ever-changing batteries. Vaask also offers an optional online monitoring dashboard that alerts staff when it's time to refill. The dashboard eliminates the time-consuming chore of checking each individual dispenser and also ensures dispensers always stay filled. This technology solves the most common problem with hand sanitizer, which, despite being more essential than ever before, is frequently not used, as a study published this year in the American Journal of Infection Control found 77% of people report dispensers to be empty.
Airports, including Salt Lake City International Airport, have also turned to Vaask because it fixes the many frequent frustrations caused by traditional hand sanitizer dispensers, including:
No drips, no mess: Vaask's PalmPilot® laser sensor precisely detects hands with the dispenser instantly reversing flow if a person pulls their hand away. No more messy misfires causing damage to floors or creating slip-and-fall risks.
No corrosion: Vaask features a peristaltic pump that is physically separated from the sanitizer to ensure no corrosion or contamination.
No replacement needed: Built to last, Vaask's cast aluminum and steel construction is a stark contrast to traditional plastic dispensers and their flimsy drip trays that are easily broken by frequent use.
No tampering: Vaask's lock feature protects the dispenser from prying hands and is designed to be hidden from view to preserve the award-winning device's minimalist look.
Vaask's features also include:
Backed by a 5-year warranty
High-capacity sanitizer tank can be easily refilled, cutting down on plastic waste
Options for custom colors, metals, graphics
Find out why Nashville International Airport also chose Vaask.